CLAW – Crisis Management Exercise with CERT team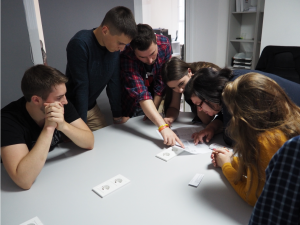 Crisis management is a process in which an organization deals with a devastating and unexpected event that threatens to harm the organization or its stakeholders.
An anti-crisis exercise was conducted among the CSIRT team.
Exercise is a kind of exam or "educational alarm", in which you can find weaknesses in times of crisis, and which can also help in creating a plan to overcome the crisis.
Determine how well the incident detection and identification process is organized.Before the crisis management exercise, the following goals were set:
Clearly define the roles and responsibilities of the team.
Test the critical thinking of team members.
Check the stress resistance of the team.
Check for "fallback" solutions to problems.
The exercise involved RENAM employees, as well as employees of the Ambulance Hospital.
The crisis management exercise was a success. Analysis of the exercise deduced the strengths and weaknesses of the team.
In the future, the following actions will be carried out for crisis management:
Several more similar exercises will be held, but with other participants and other projects.
The communication process during the crisis will be better debugged. Each employee should clearly know who he should contact in a given situation during a crisis.
Create a crisis management plan.